Nothing like a good plate of aromatic biryani! This Vegetable Biryani hits all the right spots with its wonderful aroma and exotic flavors!
Loaded with veggies, crunchy cashews, warm spices like saffron, herbs like cilantro and mint, this biryani is a delight to the taste buds in every bite!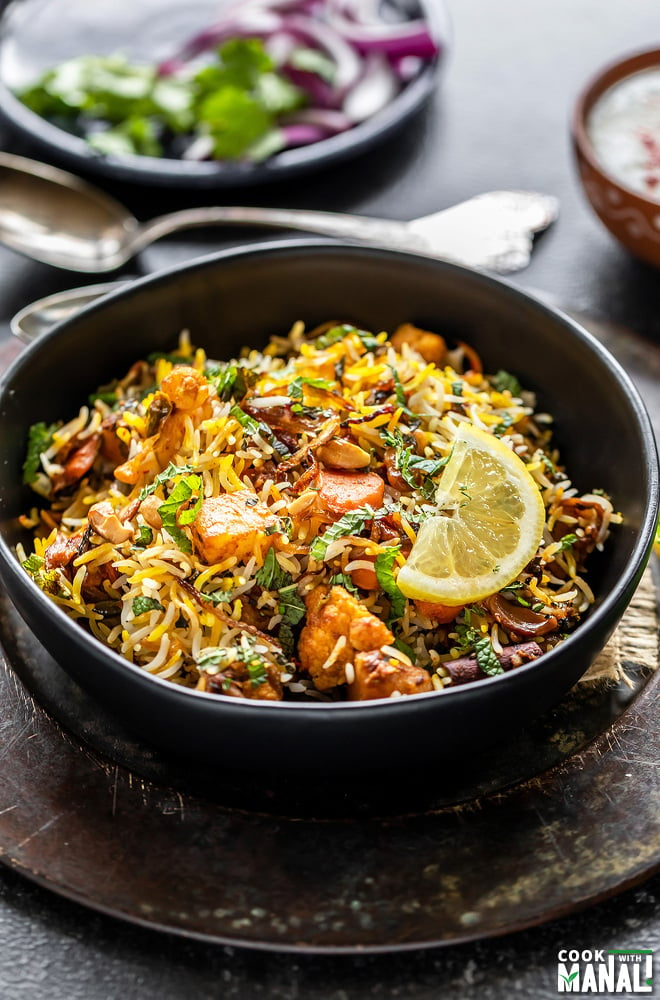 Disclosure: This post contains affiliate links. For more information on my Affiliate and Advertising Policy, please click here.
My Popular Recipes
So, I know that more often that not, vegetable biryani is looked down upon.
I have often heard people call it "pulao" and claiming that an actual biryani should have meat in it.
While I don't know how accurate that claim is, I still think that a very good Vegetable Biryani is very much possible which is very different from a pulao.
For me pulao is a short cut one-pot meal (like this beetroot pulao) which I make when I am in mood for easy dinner.
On the other hand, I make biryani for special occasions. It's a multi-step process, takes time and is not something I would make for a weekday dinner.
I can 100% guarantee you that even if you don't think much of veg biryani, this one will change your mind!
It's super flavorful, packed with so many flavors and will entice your taste buds in every bite!
I won't say this is an easy or super quick recipe because it's not.
The recipe takes time, there are multiple steps. So reserve this dish for special occasions.
It is well worth the effort though, that much I can guarantee!
What is Biryani
Biryani is a rice dish made with layers of rice, spices and traditionally meat (but it our case veggies!).
Here are the key components of biryani:
Rice: of course rice is the base and key ingredient of this dish. Long grain basmati rice is what is traditionally used.
I highly recommend using extra-long grain aged basmati rice for biryani. I use the Zebra Sella Basmati Rice and it works so well.
Veggies: so traditionally meat is used in biryani but since we are making veg biryani, we are using assorted vegetables here.
I have used potato, cauliflower, beans and carrots.
You can use green peas, mushrooms or even paneer would be a good addition.
Spices: aromatic and exotic spices (both whole and ground) are a must for a good biryani. Most commonly used are cardamom, peppercorns, cumin, saffron, garam masala.
Also rose water or kewra water is often used to flavor the biryani.
Fresh herbs & nuts: herbs like mint, cilantro and nuts like cashews are often added as garnishing and to add more texture and flavors to the biryani.
Caramelized onions also make a great addition.
The veggies and rice are layered and the biryani is then cooked on low heat with some heavy object placed on top of the pot of biryani.
This process is called "dum" and hence it's also known as Vegetable Dum Biryani.
Tips to Make Restaurant Style Veg Biryani
So, now that we know the key components for biryani, let's see how to make restaurant style vegetable biryani!
Choose the right rice: long grain basmati rice is what you should be using to make biryani.
My recommendation is Zebra Sella Basmati rice. It has extra long grains and it works perfectly well in biryani.
Using fresh ingredients: like mince your own fresh ginger, garlic and chilies.
I often use store bought ginger-garlic paste when I am short on time but for biryani, I always crush them fresh using my mortar and pestle.
It makes a difference and you would have to trust me on that.
Pan-frying the veggies before cooking them: so before cooking the veggies, I like to pan fry them a little. This gives the veggies a nice texture.
We don't want over-cooked vegetable in a veg biryani so this extra-step helps.
Using fresh herbs & spices: I really like to flavor my biryani with all the herbs and spices.
So, I use saffron milk (which is made by mixing saffron with warm milk) and also use rose water for the final flavor.
Of course, I also use plenty of cilantro and mint.
Drizzle ghee on top: I like to drizzle some ghee as I layer the biryani. It really elevates the