Make restaurant style Paneer Tikka at home with this easy recipe!
Cubes of paneer, onion and bell peppers are marinated with spices and yogurt and then roasted in the oven to perfection.
Traditionally paneer tikka is grilled in a tandoor but you get the same amazing taste by broiling in the oven too!
Paneer Tikka was one appetizer which we always ordered when we ate out in India.
My Popular Recipes
It is also one of those things which is universally loved. So my brothers who love their non-vegetarian food otherwise wouldn't mind two servings on this paneer tikka.
What is Paneer Tikka
So what actually is paneer tikka?
It's a famous Indian appetizer where pieces of paneer (Indian cottages cheese) and marinated with yogurt and spices and then grilled until charred.
Onion, bell peppers and tomatoes are also added to the marination along with paneer.
Once cooked, it's served with cilantro mint chutney, onion slices and lemon wedges.
How to Make Paneer Tikka
The process is pretty simple, you marinate the paneer with spices and yogurt, let it sit for a bit so that the flavors mix well together and then arrange the paneer cubes along with onion and peppers in a skewer and grill.
However, the taste of paneer tikka lies in its marination of course.
So to make a good paneer tikka you first need to make a very good marinade.
My marinade includes lots of spices and Greek yogurt. Now if you can't find Greek yogurt that's okay. You may use regular yogurt too, just make sure to strain it for 3-4 hours before using.
You really need thick yogurt to marinate the panner cubes.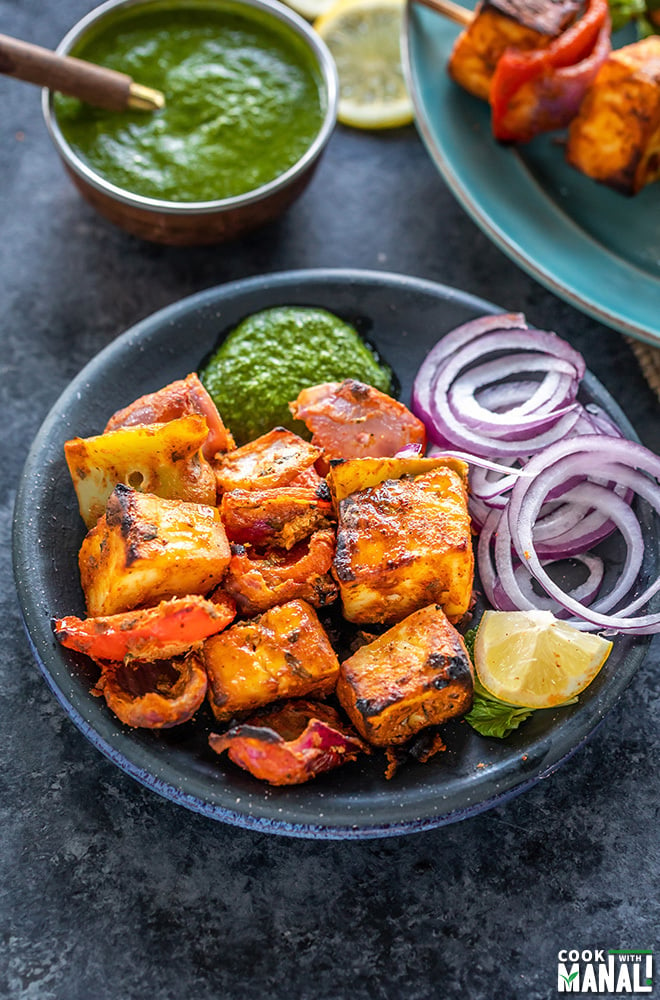 This paneer tikka marinade has
✓ Greek yogurt
✓ Spices like chaat masala, coriander powder, red chili powder
✓ Mustard oil, for that unique flavor
✓ Cilantro & mint, for freshness and taste
✓ Lemon juice for tanginess
Traditionally paneer tikka is grilled in tandoor for that authentic taste and flavor.
But the good news is that you can make a fantastic version at home by roasting it in the oven!
The broiling in the oven gives it that charred look. You guys have to try this!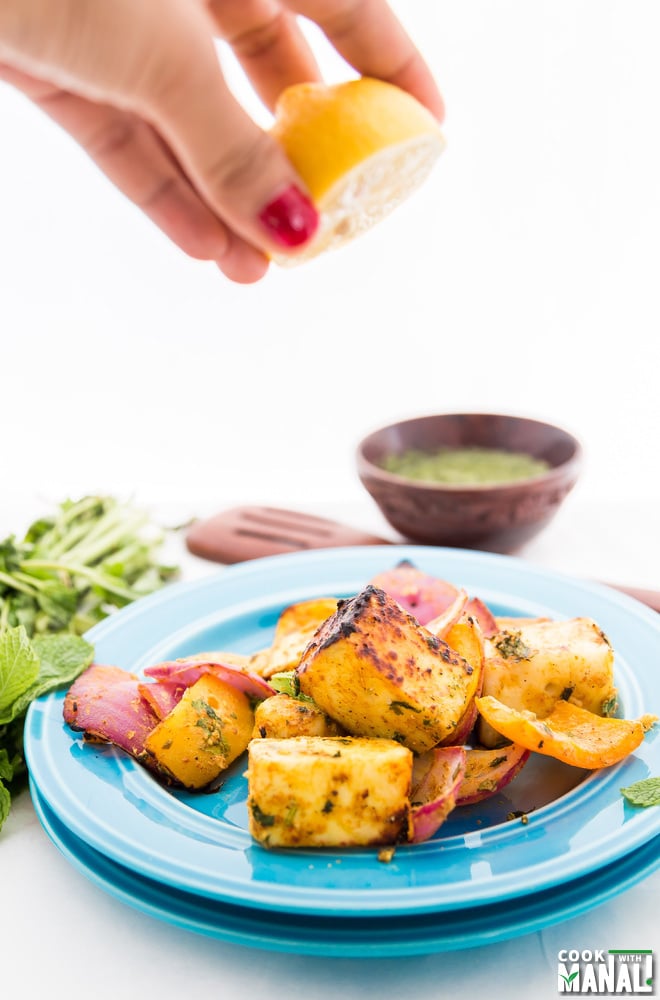 Making Paneer Tikka In the Oven
For this recipe, I have cooked the tikka in the oven. Now when you cook the paneer in the oven, it might get rubbery and chewy.
So how do you avoid that?
First thing, spray the tikka with oil before putting it in the oven.
Second, since paneer is cheese it doesn't need to be cooked for a long time. If you plan to eat the paneer tikka immediately they you can cook it for more time.
But say you are making it for a party, you would need the pieces to remain soft even after they have cooled down, so make sure to not over-cook in the oven.
Here's what I suggest!
Bake at 450 F degrees for 10 minutes and then turn on the broil. Broil for 2 to 3 minutes until paneer pieces look charred.
If you want paneer even more softer- bake at 450 F degrees for 5 minutes and broil for 3 to 4 minutes.